American Gods: The Tenth Anniversary Edition
de
citită de
George Guidall
editura Harper Collins
19h 39m

Adăugă la wishlist
Ascultă gratuit

Dacă ți-a plăcut încearcă și
Despre
American Gods: The Tenth Anniversary Edition
carte
Now a STARZ® Original Series produced by FremantleMedia North America starring Ricky Whittle, Ian McShane, Emily Browning, and Pablo Schreiber.

Locked behind bars for three years, Shadow did his time, quietly waiting for the day when he could return to Eagle Point, Indiana. A man no longer scared of what tomorrow might bring, all he wanted was to be with Laura, the wife he deeply loved, and start a new life.

But just days before his release, Laura and Shadow's best friend are killed in an accident. With his life in pieces and nothing to keep him tethered, Shadow accepts a job from a beguiling stranger he meets on the way home, an enigmatic man who calls himself Mr. Wednesday. A trickster and a rogue, Wednesday seems to know more about Shadow than Shadow does himself.

Life as Wednesday's bodyguard, driver, and errand boy is far more interesting and dangerous than Shadow ever imagined. Soon Shadow learns that the past never dies . . . and that beneath the placid surface of everyday life a storm is brewing—an epic war for the very soul of America—and that he is standing squarely in its path.

"Mystery, satire, sex, horror, poetic prose—American Godsuses all these to keep the reader turning the pages."—Washington Post
În acest moment nu există recenzii pentru această carte
Neil Gaiman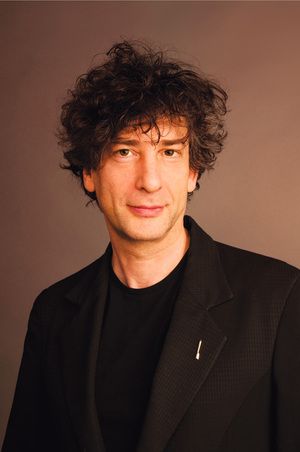 NEIL GAIMAN was awarded the Newbery and Carnegie Medals for The Graveyard Book. His other books for younger readers include Coraline (which was made into an Academy-Award-nominated film) and The Day I Swapped My Dad for Two Goldfish (which wasn't). Born in England, he has won both the Hugo and Nebula Awards. You can learn more at www.mousecircus.com.
George Guidall
Încerci gratuit
în primele 7 zile. Întrerupi oricând.
Acces nelimitat
La mii de audiobooks & eBooks din catalogul Unlimited.
Asculți offline
Poți accesa cărțile și fără conexiune la internet.
Ajustezi viteza
Ascultă audiobooks în ritmul tău.
Naratori celebri
Testezi și alegi vocile care îți plac.
Ai cărțile cu tine
Direct de pe mobil, oriunde ești.