Every Tongue Got to Confess
de
citită de
Ruby Dee, Ossie Davis
editura Harper Collins
6h 46m

Adăugă la wishlist
Ascultă gratuit

Dacă ți-a plăcut încearcă și
Despre
Every Tongue Got to Confess
carte
African-American folklore was Zora Neale Hurston's first love. Collected in the late 1920's Every Tongue Got to Confess, from the celebrated author of Their Eyes Were Watching God, is published here for the first time, beautifully performed by Ruby Dee and Ossie Davis.

Hilarious, bittersweet, and often saucy, these folk-tales provide a verdant slice of African-American life in the rural South at the turn of the twentieth century. They capture the heart and soul of the vital, independent, and creative community that so inspired Zora Neale Hurston.

In Every Tongue Got to Confess, Hurston records, with uncanny precision, the voices of ordinary people -and no two actors better capture this world than Ruby Dee and Ossie Davis. They pay tribute to the richness of Black vernacular -- its crisp self-awareness, singular wit, and improvisational wordplay. These folk-tales reflect the joys and sorrows of the African-American experience, celebrate the redemptive power of storytelling, and showcase the continuous presence in America of an Afticanized language that flourishes to this day.Performed by Ruby Dee and Ossie Davis
În acest moment nu există recenzii pentru această carte
Zora Neale Hurston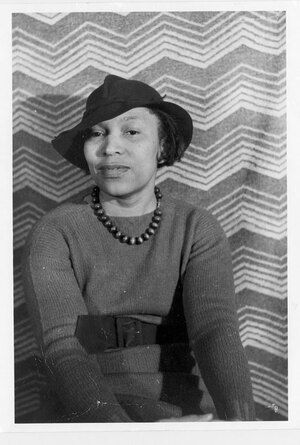 Zora Neale Hurston was a novelist, folklorist, and anthropologist. She wrote four novels (Jonah's Gourd Vine, 1934; Their Eyes Were Watching God, 1937; Moses, Man of the Mountain, 1939; and Seraph on the Suwanee, 1948); two books of folklore (Mules and Men, 1935, and Tell My Horse, 1938); an autobiography (Dust Tracks on a Road, 1942); an international bestselling nonfiction work (Barracoon: The Story of the Last "Black Cargo," 2018); and over fifty short stories, essays, and plays. She attended Howard University, Barnard College, and Columbia University and was a graduate of Barnard College in 1928. She was born on January 7, 1891, in Notasulga, Alabama, and grew up in Eatonville, Florida.
Ruby Dee
Not only is Ruby Dee one of the most respected African-American actors of her day, she was also an important part of the civil rights movement. She is probably best known for her role in A Raisin in the Sun, which she performed on both the stage and the screen. Dee has also written plays, fiction, and a column in New York's Amsterdam News. Born in Cleveland, she worked initially with the American Negro Theater in Harlem, where she grew up. She is married to the actor and author Ossie Davis.
Ossie Davis
Ossie Davis illumined America's stage and screen for two generations. He distinguished himself as a writer, actor, director, and narrator. A short list of his film work includes: I'm Not Rappaport, The Client, Grumpy Old Men, and Do the Right Thing. He and his wife Ruby Dee were 1995 recipients of the National Medal of Arts Award. On Feb. 4, 2005 Ossie Davis died at the age of 87.
Încerci gratuit
în primele 7 zile. Întrerupi oricând.
Acces nelimitat
La mii de audiobooks & eBooks din catalogul Unlimited.
Asculți offline
Poți accesa cărțile și fără conexiune la internet.
Ajustezi viteza
Ascultă audiobooks în ritmul tău.
Naratori celebri
Testezi și alegi vocile care îți plac.
Ai cărțile cu tine
Direct de pe mobil, oriunde ești.