It Happened One Season
de
citită de
Simon Prebble, Anne Flosnik
editura Harper Collins
13h 15m

Adăugă la wishlist
Ascultă gratuit

Dacă ți-a plăcut încearcă și
Despre
It Happened One Season
carte
New York Times bestselling historical romance superstars Stephanie Laurens and Mary Balogh, along with beloved fan favorites Jacquie D'Alessandro and Candice Hern—the four authors who brought you It Happened One Night—are back with It Happened One Season. Even more inventive than their bestselling first anthology, It Happened One Season presents four love stories set during an unforgettable Regency social season—each passion-rich novella based on the same themes chosen by readers during a month-long online contest…yet each one surprisingly, delightfully unique!
În acest moment nu există recenzii pentru această carte
Stephanie Laurens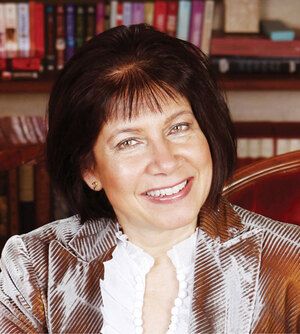 New York Times bestselling author Stephanie Laurens originally began writing as an escape from the dry world of professional science. Her hobby quickly became a career; she has been writing historical romance novels for more than 20 years. Currently living outside Melbourne, Australia with her husband and two cats, she spends most of her days writing new stories in her signature 'Errol Flynn meets Jane Austen" style. Visit her online at www.stephanielaurens.com.
Simon Prebble
Simon Prebble has worked extensively on British and American television as both actor and narrator.
Anne Flosnik
Jacquie D'Alessandro
Growing up on Long Island, New York, Jacquie D'Alessandro fell in love with romance at an early age. She dreamed of being swept away by a dashing rogue riding a spirited stallion. When her hero finally showed up, he was dressed in jeans and drove a Volkswagen, but she recognized him anyway. They married after both graduating from Hofstra University and are now living their happily-ever-afters in Atlanta, Georgia. They have one grown son, who is a dashing rogue in the making. The author of more than thirty historical and contemporary romances, Jacquie loves to hear from readers and can be contacted through her website.
Candice Hern
Candice Hern is the award-winning author of historical romances set during the English Regency, a period she knows well through years of collecting antiques and fashion prints of the era. She travels to England regularly, always in search of more historical and local color to help bring her books to life.
Mary Balogh
New York Times bestselling, multi-award-winning author Mary Balogh grew up in Wales, land of sea and mountains, song and legend. She brought music and a vivid imagination with her when she came to Canada to teach. There she began a second career as a writer of books that always end happily and always celebrate the power of love.
Încerci gratuit
în primele 7 zile. Întrerupi oricând.
Acces nelimitat
La mii de audiobooks & eBooks din catalogul Unlimited.
Asculți offline
Poți accesa cărțile și fără conexiune la internet.
Ajustezi viteza
Ascultă audiobooks în ritmul tău.
Naratori celebri
Testezi și alegi vocile care îți plac.
Ai cărțile cu tine
Direct de pe mobil, oriunde ești.