Racing in the Rain
de
citită de
Henry Leyva
editura Harper Collins
5h 43m

Adăugă la wishlist
Ascultă gratuit

Dacă ți-a plăcut încearcă și
Despre
Racing in the Rain
carte
Now a family friendly major motion picture from Fox 2000 Studios—featuring Milo Ventimiglia, Amanda Seyfried, and Kevin Costner as the voice of Enzo the dog!

In thisyoung readers' edition of the New York Times bestselling adult novel The Art of Racing in the Rain, meet one funny mutt—Enzo, the lovable dog who tells this story.

Enzo knows he is different from other dogs. Most dogs love to chase cars, but Enzo longs to race them.

He learns about racing and the world around him by watching TV and by listening to the words of his best friend, Denny, an up-and-coming race car driver, and Denny's daughter, Zoë, his constant companion. Enzo finds that life is just like being on the racetrack—it isn't simply about going fast.

Applying the rules of racing to his world, Enzo takes on his family's challenges and emerges a hero. In the end, Enzo holds in his heart the dream that Denny will go on to be a racing champion with his daughter by his side.

For theirs is an extraordinary friendship—one that reminds us all to celebrate the triumph of the human (and canine) spirit.
În acest moment nu există recenzii pentru această carte
Garth Stein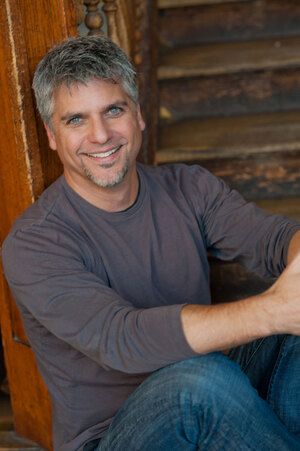 Garth Stein is the author of the international bestseller The Art of Racing in the Rain. He has written two other novels: How Evan Broke His Head and Other Secrets, which won a 2006 Pacific Northwest Booksellers Association Book Award, and Raven Stole the Moon. He has also written a full-length play, Brother Jones, which received its first production in Los Angeles in 2005, and was described as "brimming with intensity" by L.A. Weekly.
Henry Leyva
Încerci gratuit
în primele 7 zile. Întrerupi oricând.
Acces nelimitat
La mii de audiobooks & eBooks din catalogul Unlimited.
Asculți offline
Poți accesa cărțile și fără conexiune la internet.
Ajustezi viteza
Ascultă audiobooks în ritmul tău.
Naratori celebri
Testezi și alegi vocile care îți plac.
Ai cărțile cu tine
Direct de pe mobil, oriunde ești.