The Dangerous Book for Boys
de
citită de
Oliver Wyman
editura Harper Collins
3h 50m

Adăugă la wishlist
Ascultă gratuit

Dacă ți-a plăcut încearcă și
Despre
The Dangerous Book for Boys
carte
The bestselling book—more than 1.5 million copies sold—for every boy from eight to eighty, covering essential boyhood skills such as building tree houses, learning how to fish, finding true north, and even answering the age old question of what the big deal with girls is—is soon to be an AmazonPrime OriginalSeries created by Bryan Cranston (Breaking Bad) and Greg Mottola (Superbad).

The classic bestselling book for every boy from eight to eighty, covering essential boyhood skills such as building tree houses*, learning how to fish, finding true north, and even answering the age-old question of what the big deal with girls is.

In this digital age, there is still a place for knots, skimming stones and stories of incredible courage. This book recaptures Sunday afternoons, stimulates curiosity, and makes for great father-son activities. The brothers Conn and Hal have put together a wonderful collection of all things that make being young or young at heart fun—building go-carts and electromagnets, identifying insects and spiders, and flying the world's best paper airplanes.

Skills covered include:

The Greatest Paper Airplane in the World
The Seven Wonders of the Ancient World
The Five Knots Every Boy Should Know
Stickball
Slingshots
Fossils
Building a Treehouse*
Making a Bow and Arrow
Fishing (revised with US Fish)
Timers and Tripwires
Baseball's "Most Valuable Players"
Famous Battles-Including Lexington and Concord, The Alamo, and Gettysburg
Spies-Codes and Ciphers
Making a Go-Cart
Navajo Code Talkers' Dictionary
Girls
Cloud Formations
The States of the U.S.
Mountains of the U.S.
Navigation
The Declaration of Independence
Skimming Stones
Making a Periscope
The Ten Commandments
Common US Trees
Timeline of American History
În acest moment nu există recenzii pentru această carte
Conn Iggulden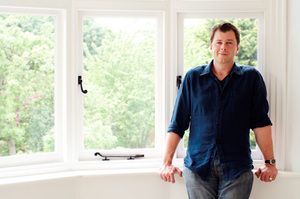 Born in London, Conn Iggulden read English at London University and worked as a teacher for seven years before becoming a full-time writer. He lives in Hertfordshire with his wife and their children.
Oliver Wyman
Hal Iggulden
Hal Iggulden is the artistic director of the Holdfast Theatre Company in Leicester, England.
Încerci gratuit
în primele 7 zile. Întrerupi oricând.
Acces nelimitat
La mii de audiobooks & eBooks din catalogul Unlimited.
Asculți offline
Poți accesa cărțile și fără conexiune la internet.
Ajustezi viteza
Ascultă audiobooks în ritmul tău.
Naratori celebri
Testezi și alegi vocile care îți plac.
Ai cărțile cu tine
Direct de pe mobil, oriunde ești.