The Dark Tide
de
citită de
Melissa Leo
editura Harper Collins
11h 47m

Adăugă la wishlist
Ascultă gratuit

Dacă ți-a plăcut încearcă și
Despre
The Dark Tide
carte
From the New York Times bestselling author of The Blue Zone comes this second mesmerizing thriller about a woman who must unravel the secrets from her dead husband's past.

An explosion rips through New York City's Grand Central Station, destroying the train Karen Friedman's husband, a successful hedge fund manager, is riding in to work. On the same day, there's a suspicious hit-and-run accident in Karen's hometown of Greenwich, Connecticut, and Ty Hauck, a detective, finds a clue that shockingly connects the two seemingly unrelated events.

Months later, two men show up at Karen's home digging into Charles' business dealings. Hundreds of millions of dollars are missing—and the trail points squarely to Charles. Suddenly Karen, with Hauck, steps into a widening storm of hedge fund losses, international scams and murder. And as the investigations converge, these two strangers are pulled into a twisted—and deadly—conspiracy. With its breakneck pacing, plentiful twists, compelling characters, and abundant heart, The Dark Tide confirms Andrew Gross' place as a master storyteller at the top of his game.
În acest moment nu există recenzii pentru această carte
Andrew Gross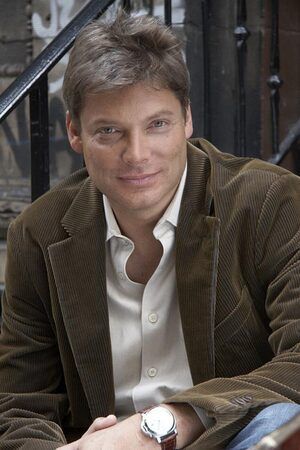 Before turning to full-time writing, Andrew Gross was an executive in the sportswear business. Andrew has co-authored 5 novels with James Patterson, all of them reaching Number One in the NY Times Bestseller list. His first novel 'The Blue Zone' was an instant UK bestseller. He currently lives in New York with his wife, Lynn and has three children.
Melissa Leo
Melissa Leo is best known as Detective Kay Howard on NBC's Homicide: Life on the Street, and the role of Emma on The Young Riders. She was nominated for a Daytime Emmy® for her role as Linda Warner on All My Children. Ms. Leo has guest starred on numerous television series including Law & Order, Legacy, The Equalizer, Spencer for Hire and Gideon Oliver. Her television movies include Carolina Skeletons, Scarlett and The Incident.
Încerci gratuit
în primele 7 zile. Întrerupi oricând.
Acces nelimitat
La mii de audiobooks & eBooks din catalogul Unlimited.
Asculți offline
Poți accesa cărțile și fără conexiune la internet.
Ajustezi viteza
Ascultă audiobooks în ritmul tău.
Naratori celebri
Testezi și alegi vocile care îți plac.
Ai cărțile cu tine
Direct de pe mobil, oriunde ești.