Untamed City: Carnival of Secrets
de
citită de
James Marsters
editura Harper Collins
8h 4m

Adăugă la wishlist
Ascultă gratuit

Dacă ți-a plăcut încearcă și
Despre
Untamed City: Carnival of Secrets
carte
Warriors Kaleb and Aya will stop at nothing to destroy their competition. But when Kaleb finds his fate entwined with that of Mallory, a seventeen-year-old human girl, he can't seem to separate the vicious Carnival contest he's entered from his sudden devotion to her. He and Aya may be prizefighters from the otherworldly Untamed City, but his strange, obsessive connection makes staying away from the witch-ruled human world, and Mallory, harder every day.

All Mallory knows of the Untamed City is what her elders have told her—that it's full of debauchery and daimons looking to destroy her. But she knows she's being pulled toward Kaleb with an emotion so fierce that it's utterly foreign.

The two are forced apart by Mallory's overprotective witch father, stranded by necessity between warring populations that can't coexist. But when The City's ruler raises the stakes of the Carnival's prize, there's nothing Mallory, Kaleb, or Aya can do to stop the two worlds colliding. Mallory's about to discover her true identity—and stumble into a fate she'd die to avoid.

Fans of The Hunger Games will devour this tale of lush secrets, dark love, and the struggle to forge one's own destiny from the bestselling author of Wicked Lovely, Melissa Marr.

(Formerly published as Carnival of Souls)
În acest moment nu există recenzii pentru această carte
Melissa Marr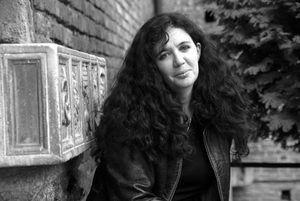 Melissa Marr is the New York Times bestselling author of the Wicked Lovely series as well as the adult fantasy novels Graveminder and The Arrivals. When not traveling, Melissa can be found in Phoenix or online at www.melissamarrbooks.com.
James Marsters
Încerci gratuit
în primele 7 zile. Întrerupi oricând.
Acces nelimitat
La mii de audiobooks & eBooks din catalogul Unlimited.
Asculți offline
Poți accesa cărțile și fără conexiune la internet.
Ajustezi viteza
Ascultă audiobooks în ritmul tău.
Naratori celebri
Testezi și alegi vocile care îți plac.
Ai cărțile cu tine
Direct de pe mobil, oriunde ești.